Recently, massive productive online programs that can be used for free have become more and handier. For editing blog images and pictures to share on social media, free online tools are enough. Also, you can use online graphic editors to get the job done. Among these graphics design tools, this post will show you how to create attractive logos with DesignCap. It is a one-stop online graphic tool to create the most popular design.
In addition to marketing material, you can also create social media images and events. Hundreds of good-looking templates are already available on DesignCap. So, you can easily change the text and images to create a well-designed visual content quickly.
Though DesignCap supports 7 languages, including English, German, Spanish, Japanese, Portuguese, French, Chinese. You can quickly play this tool effortless with its intuitive interface.
How to work DesignCap?
As for the flow of usage, just select the type of templates you want to create. Then choose the template you like, and edit the text and images.
Of course, you can make your design from scratch, but it would be easier to use it because the template is prepared. Find and select your favorite template from the stock.
When you choose any design category, there will be also related design categories to choose from, and those with a diamond icon are exclusive for versions of paid plans.
Although it provides templates, you can still edit and design from a blank canvas. After clicking any template, the editing area on the right will be loaded and displayed. If you don't want it, you can change it again.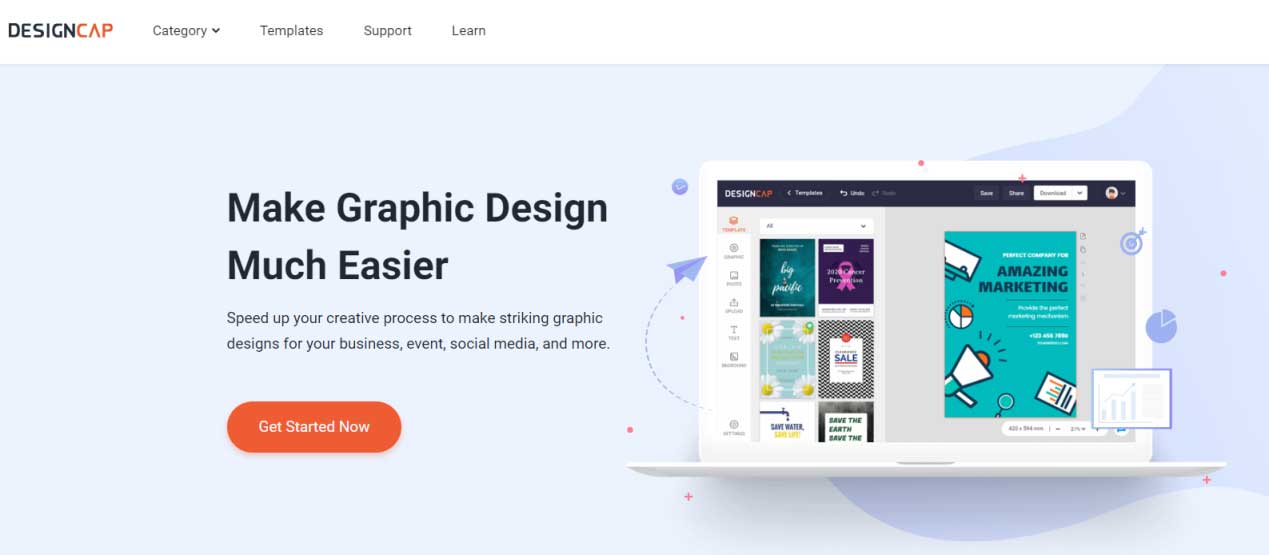 After confirming the template, you can start editing and customizing. You can change the original elements and photos, and you can add additional art materials through the function on the left.
In addition to uploading pictures by yourself, you can also search through the "Photos" function. This is a collaboration with the picture library platform Pixabay, which includes free and premium pictures, so some picture files are only available for premium plans.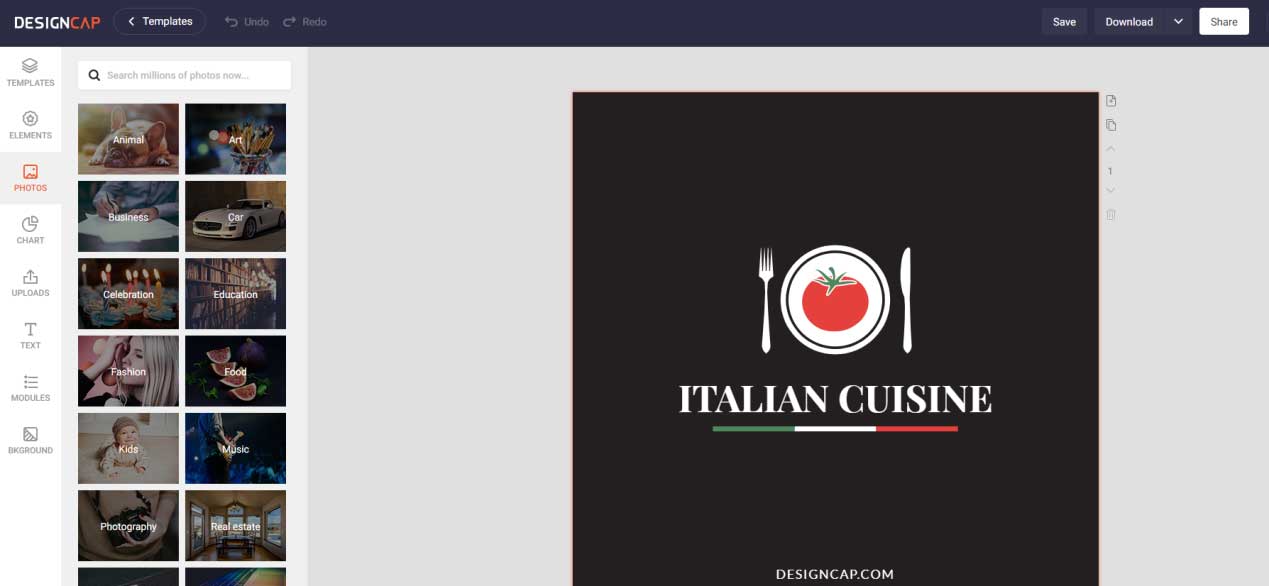 After selecting and adding photos, you can zoom the size and drag the position, and you can also use the effects, rotation, crop size, zoom, layer order, etc. in the editing tools above to edit.
There are also elements, charts, uploads, text, modules, and backgrounds in the editing tools on the left. They are very similar and easy to use.
After clicking any of the objects, the editing tool will display upon the canvas. And then you can do individual editing adjustments so as not to interfere with each other. In addition, there are "Undo" and "Back" functions at the top left, which can cancel an editing step at any time.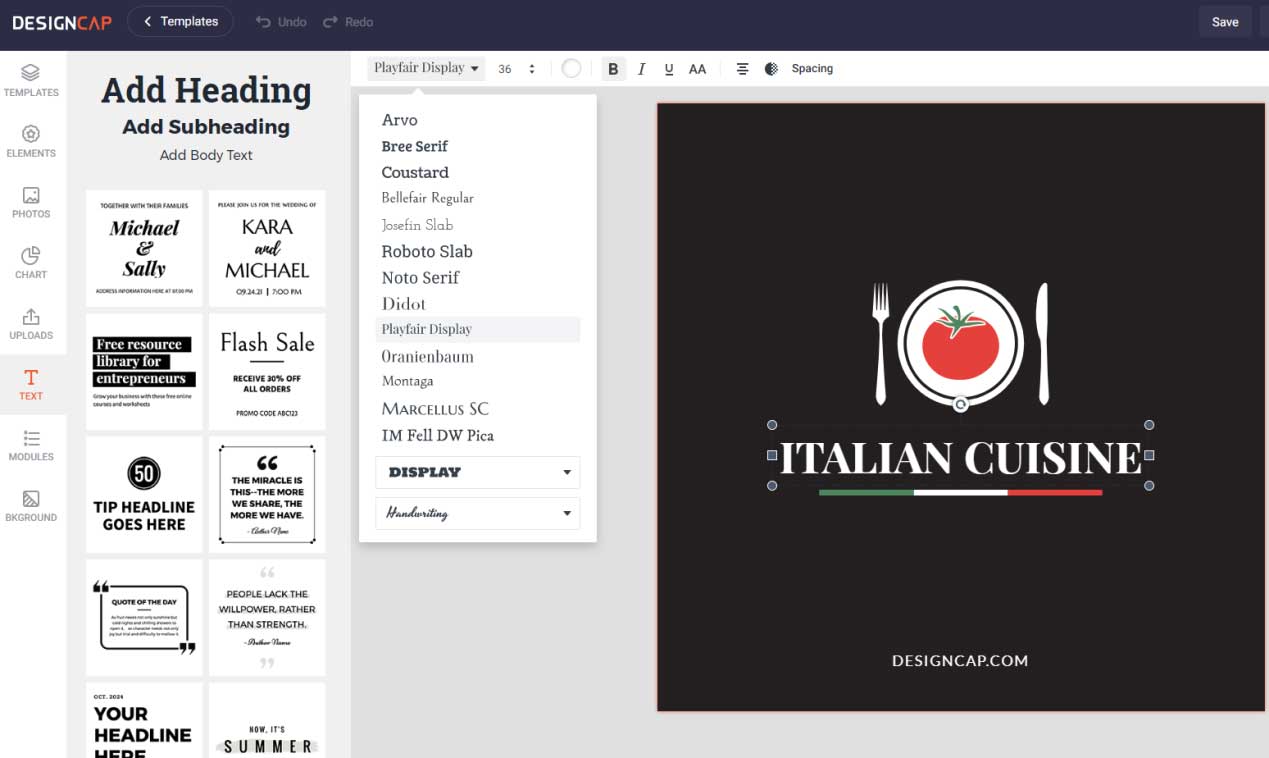 After editing, save it first, and then download the image file.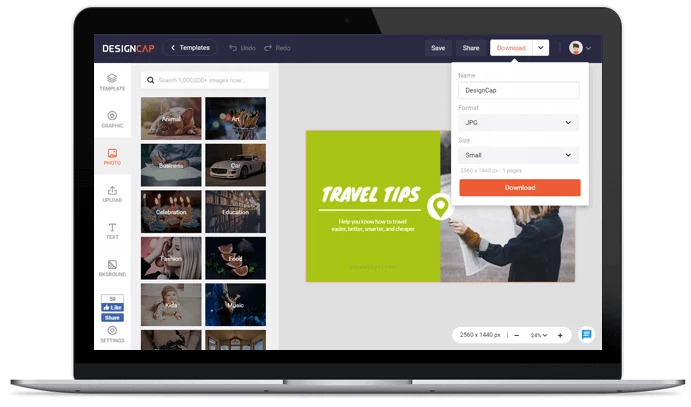 Final words
DesignCap offers an extra option for those who don't have art or no budget outsourcing, and this is a straightforward tool that does not require downloading and installing software.
There are similar online editing tools on the market, and the operation modes are very similar. Still, relatively speaking, DesignCap charges a lower price than others, which is a more obvious benefit to users. You can simply try it for yourself, just go www.designcap.com and create your own design.
At present, the number of design templates provided is not large, and hopefully, it would have more templates to choose from in the future. Which is also the biggest advantage I think this tool can bring to users. After all, not everyone has the design ability and aesthetics, but this problem can be significantly solved by applying templates.