Google Coral?  Well, something absolutely amazing is launching by google soon.
Google Coral is expecting to be launching in October 2019 with the performance that you have never seen in any smartphones (or maybe a device) so far. As we all know google brings the latest updates to their devices. Well, get ready to have the latest android version Q in this BEAST.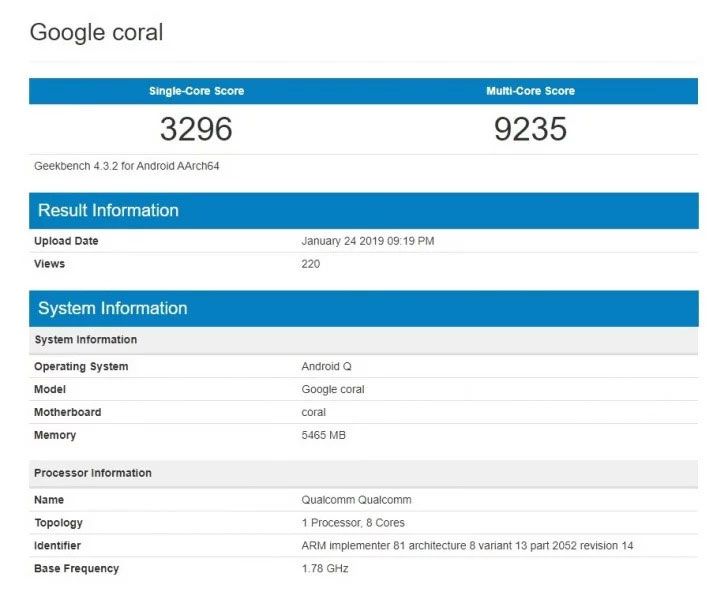 Other specs are,
Launching with latest Snapdragon 855 SoC.
latest GPU
6 GB RAM ( May have different RAM variants )
The base frequency of 1.78 GHz
Google Coral has the Snapdragon 855 SoC, the processor has been manufactured using the energy efficient 7 nm manufacturing process. We could see up to 8 GB RAM for the top variant. Google Coral has coral for its motherboard which means that it can be a Chromebook. Although its just a possibility, not sure of that. From the rumours, the Google Coral maybe is a Chromebook. We are still not sure which category the device is.
Google Coral scored 3296 in its single core and 9235 in its multi-core during GEEKBENCH score tests.
Google Coral has better scoring when comparing with other pixel smartphones since the device is having snapdragon 855 processor but the score is still low because the score has been testing with initial Android Q version. It is saying that since the OS is in the initial stage, it is full of bugs and unstable for now. The scores will be much better after Android Q will be stable and useful for the daily purpose. Google Coral is going to be competing with Samsung S10 and other flagship smartphones that are going to be releasing soon. Well, it's sad that android Q builds are going to be testing in pixel 3 and upcoming pixel 4 smartphones.
Google already said that Android Q beta will be releasing after a couple of months and they will be initially available for the pixel smartphones as always and pretty soon to other flagship smartphones.
Source: Geekbench