The Predator Tritron 900
The predator company Acer has just unveiled their all-new giant gaming laptop known as the Acer Predator Triton 900. It was just a demo, no real model was seen on the IFA 2018. But there is a twist. The all-new Acer Predator Triton 900 has an amazing flip display. That let the gamers to flip their laptop to their decent comfort zone. A teaser has been played at the IFA 2018 showing the real concepts of the upcoming giant gaming laptop. And it looks a way brilliant idea to change the future of the laptops.
The main intention of this upcoming gaming laptop is that rather than using it as a normal laptop. The user can bring the display closer to the eyes or even flip it to use like a tablet. Nearly most of the gaming laptops have no touchscreens. But this Big boy has a wide 4K UHD touchscreen display with the Nvidia's G-Sync supported by the CNC-machined hinge. The display will be of 3,840 x 2,160 resolution supported by the latest RTX Graphics and the latest Intel processor. So far Nvidia has only unveiled their RTX Graphics for the Desktop version, that is RTX 2080 Ti,2080 and 2070. But this Acer Predator Triton 900 will be definitely depending on the latest RTX graphics for the better performance of the laptop. Talking about the processor, it will be much of the latest i9 processor of the 8 generation.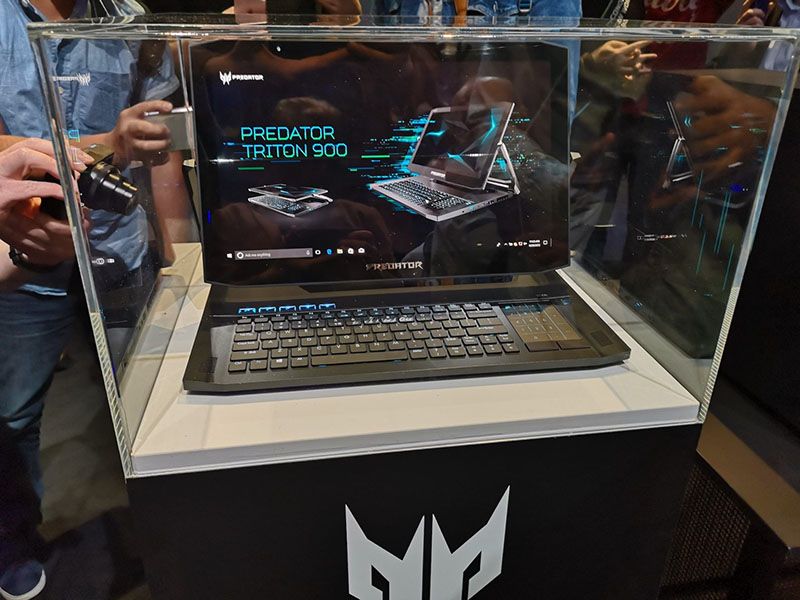 One of the latest features of the Acer Predator Triton 900 is the latest 4th generation of Acer's Aeroblade 3D fans, Mechanical keyboards, Switchable trackpad or the light-up number pad. We can clearly see the USB-C and USB-A ports, an Ethernet port, an SD card reader and more connections. Few of em are at the back of the laptop. There is a power button on the right side edge and this time they probably include a fingerprint scanner.
So far Acer hasn't said anything about the specification and about the inside hardware. Even the price tag or even the release dates so far.
Image courtesy : laptopmag.com