Anthem is one of the most awaited online multiplayer action role-playing video game like the Destiny 2, developed by BioWare and published by Electronic Arts. The game was initially scheduled to be released last year, but later they moved on to February 22, 2019. So far nobody knows what the story is about. But the devs of Bioware said it contains all of the action, adventure, roleplay, and shooting so far. As per the Origin website, the story is like
On a world left unfinished by the gods, a shadowy faction threatens all of humankind. The only thing that stands between these villains and the ancient technology they covet are the Freelancers.
Join with up to three other players and assemble high-tech, hand-crafted, uniquely powerful suits of armor. Explore vast ruins, battle deadly enemies, and claim otherworldly artifacts. With every mission, you and your Javelin grow in power. Fight the dangers of an ever-changing world. Rise united to defeat evil. Triumph as one.
The game much similar to Destiny 2. where you'll team up with two or three friends to explore the ever-changing world of danger and mystery. With a customizable iron man suit called exosuits and you can control the javelin, which is of 4 types. Ranger, colossus, interceptor, and the storm. The game is basically killing the other opponents, giant insects, and other creatures by using a variety of machine guns and other unique equipment.
Watch official trailer : https://www.ea.com/games/anthem#cinematic-trailer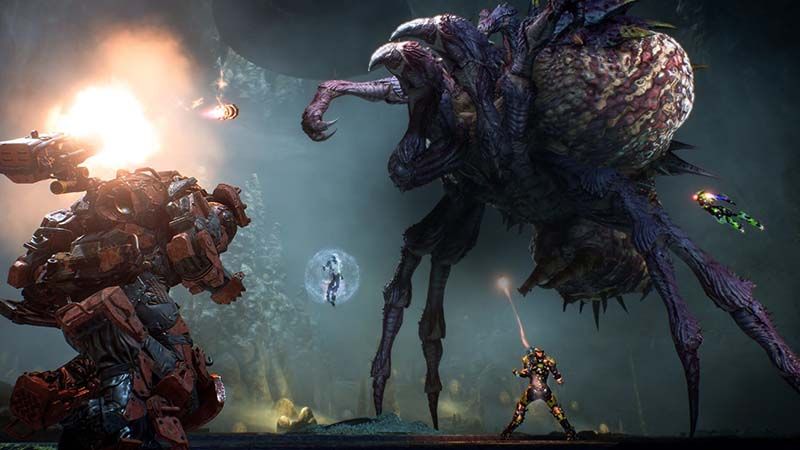 System Requirements
Anthem will be coming to all major console like PS4, Xbox one and in PC. Which require a high powered computer to get the best performance. Anthem is built on the latest modified version of the Frostbite 3.0 graphics Engine Of the EA Dice. Anthem will go for 16gb of RAM for high graphics settings. Also requires Intel i7 processor with 8 gen paired with GTX 1070 or above. And also a high-speed internet connection for the online multiplayer. which doesn't come with an offline mode.
Source: EA Sports