iPhone and iPad bug that has been around for 8 years is being Exploited by Hackers
iPhone and the iPad bug that has been around for 8 years are being Exploited. Apple, which was obsessed with its security reputation is now at risk. By sending a simple mail, a hacker can access your iPhone. This mail attack is also known as Zero-Day vulnerability allows attackers to hack your phone with no interaction from your side. You don't have to open the built-in mail or click any other, the hacker will do the rest. In simple words, Hackers can Exploit iPhones Just by Sending Emails to their target.
The attacker sent special mail to the victim and it activates the vulnerability. Whether in MobileMail on IOS 12 or mail-id for IOS 13, the threat exists. The first reporting of this Zero-day vulnerability was with iPhone 5 in 2012 with IOS 6 mail app. There is however no patch available for now. A public update is on the way but until then, the best way to stay safe is to stop using a built-in mail app on iPhone and iPad.
The hacker uses two phases to gain access,
Phase 1; Specially crafted email sent to victim mailbox to crash the system
Phase 2; After phase 1, hacker exploits the vulnerability in the IOS and takes control of your phone. More information about phase 2 is not available.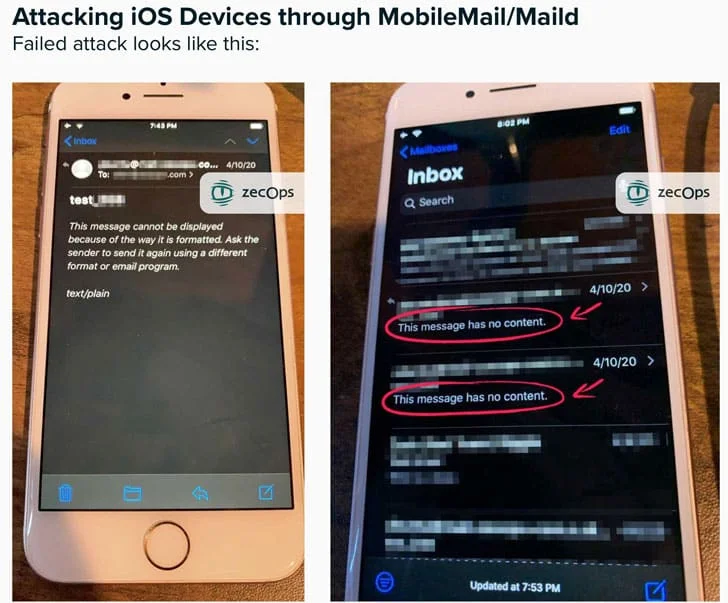 If the attack failed, then the mail sent by the hacker will show "This message has no content." message. As per ZecOps, the victim will face a sudden crash of mail app in IOS 12 and a short time slowdown for the IOS 13 mail app.
Well, there is little hope for some people. This is not a mass attack. This is a targeted attack. Politicians, business leaders, and other VIP's should take precautions a bit more seriously. Besides it is better for everyone to stop using the built-in mail application and start using web portals like outlook or Gmail, which minimize this vulnerability. It is totally your call and we are just advising.
With very little data available hackers have got into at least members of 6 organizations as per reports by ZecOps. They are:
Members of Fortune 500, a North American organization.
A high profile Japanese executive.
A VIP from Germany
Managed security services providers in Saudi Arabia and Israel
A Journalist in Europe
Suspected: An executive from a Swiss enterprise
So, Just be careful because of these bugs, Hackers can Exploit iPhones Just by Sending Emails. And Apple is set to release new patches for these bugs in upcoming updates.
Take precautions, stay safe until the next update. Stay tuned for more updates.