The cinema camera maker RED has recently revealed their new Holographic Smartphone known as the RED Hydrogen One. Which comes as the world's first Holographic smartphone ever released so far. Was said to be shipped in this summer. But later moved on to August with an improved version. The pre-orders can test the 4-view display in the month of  April. Even though the phone costs around 1,195$, it consist of a holographic 5.7″ 2,560 x 1,440 OLED display, which is a glasses-free 3D screen.
The main reason for the delay in release was some camera improvements. James Jannard, the founder of the RED company explained the reason for its delay.
A few months ago we added 3D cameras front and back to HYDROGEN so you could shoot 3D and convert to 4V without a module. Processing to 4V needed the cloud, your computer or was done VERY SLOWLY on your phone. Much better than a module but still not ideal. Now, with a lot of hardware and software work (which created a good portion of the delay)… you shoot 4V realtime on the phone both sides.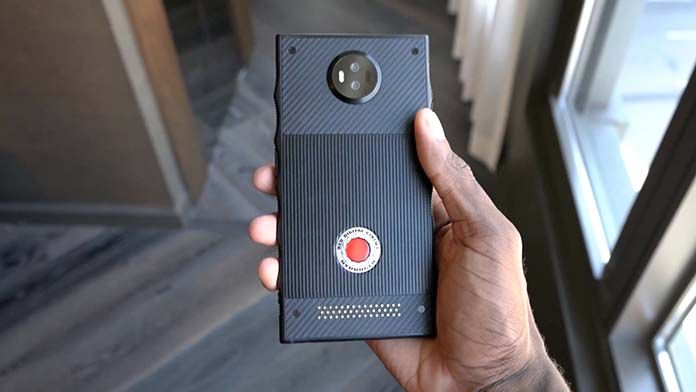 Two high-quality 4K cameras which can capture all types of 2D,3D, and H4V videos and convert them to 8K resolution videos. Later on, it can be display in 3D on the Hydrogen One's 4V display, and later uploaded to YouTube, Facebook. Since its the company RED, We can expect a fine quality camera. Also finds a 3.5mm headphone jack. So far the all-new Hydrogen One comes up with an all new Snapdragon 835 chip which is the latest of all. Which provides vault-like security, fast performance and more. The battery is of 4,500 mAh battery which is quite smaller, for the 4-view display. As usual, it contains a USB Type-C port And dual-sim slots. Audio processing is much similar to the Dolby Atoms which is of 3D audio processing circuits, which enables spatial sound.
In conclusion,
Later on, the company tied up with Lucid, best known for its LucidCam a camera that can shoot 180-degree 3D VR video and photos. Which later adds to the Hydrogen One. Also packed with a Lucid's real-time 3D Fusion tech to combine the images together into files which compatible with the Hydrogen One. Talking about the variants, two types aluminum for $1,195 or titanium for $1,595. It was said that the product will be at the store by the summer at Verizon and AT&T. But later it delayed due to some necessary reason to upgrade the product.
Image courtesy : red.com, TechnoBuffalo.com