The Lenovo Smart Display.
These days we have seen many smart assistants like The Amazon Echo, Google Home etc… So far none of them has a display. The only thing you can do is to control it with your voice. Like to sing a song, kitchen recipe etc.  So with a better upgrade, Lenovo brings up a smart display known as the Lenovo Smart Display. Which performs the same function of The Google Home and Google Home Mini. With a crystal clear Display of either 8 or 10 inches.
You can ask anything to the all new Lenovo Smart Display like what's the weather, watch youtube, play music etc. Instead of replying with a voice like the Amazon Echo, this Smart Display will reply you with a graphical content. Which is almost the same like a tablet with Google Assistant but a huge speaker. if you are familiar with the Google Assistant, then setting up the Lenovo Smart Display might be pretty easier. It took us just a few minutes to get up and start running because it works with the Google Home app. Then use your voice, starting with "Hey Google" or "Ok Google" to ask for the weather or something else like a song or a small storytelling.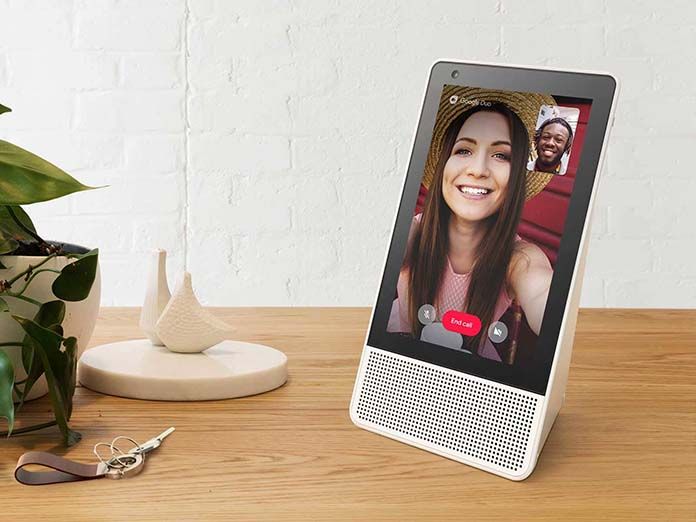 The Home screen includes all the kind of information like your city weather, how long it might take for you to commute to work, YouTube videos and other information on online orders, booking and flights which may have recognized from your Gmail account. You can swipe across the large, bright touchscreen to see more information or speak more commands. Like for a random number, recipes, call uber, translation, search, media and many more. Even you can customize your Home screen using Google photos which uses your backup photos and albums.
In conclusion,
This smart device can be used for many purposes like video chat, with the help of Google Duo, but you must have an account and the receiver too should have the app on his phone. Can watch youtube videos, shows and also to view Google photos, albums and more. Finally, it can play music from other services like google play music, Spotify, and Pandora. Later on, the device can be connected with all the smart Home devices like the smart lamp, smart Tv or anything which can work with the help of NFC and Google assistant. The product comes with two variant one with 8-inch screen for 200$ and the other with a 10-inch screen with 250$. Much better than the Amazon Show.