The Dual Screen Laptop… Future is near…
A few days back Lenovo unveils their all-new yoga book known as the Lenovo Yoga Book C930. A small laptop just like the size of a notebook. The striking feature of this all-new laptop is that it doesn't have a physical keyboard. Instead, it has an E-ink display which is used as the keyboard and trackpad. The E-ink display looks similar to the Amazon Kindle Paperwhite with many other features like PDF marker, Draw images, view images, write notes and few more concepts. Since its a prototype there is only a few. But this one is the future of the Notebooks. Even the Concept prototype looks a way amazing.
Whats New
This Lenovo Yoga Book C930 is the successor of the last years Yoga Book. They had many new ideas last time but didn't hold too long in the markets. Last time Yoga Book was considered as a Chrome OS because it was a mix of both Windows 10 tablet mode and Android. But this one will be the game changer in the market because they are purely focusing on the Windows 10. So far many have been pre-ordered this amazing laptop before this initial release. This time to make this product a great success, Lenovo has planned to have a major improvement. Like improved Intel processor, either i5 or i7 processor, USB-C ports, Fingerprint scanner, the amazing E-ink display and a pen.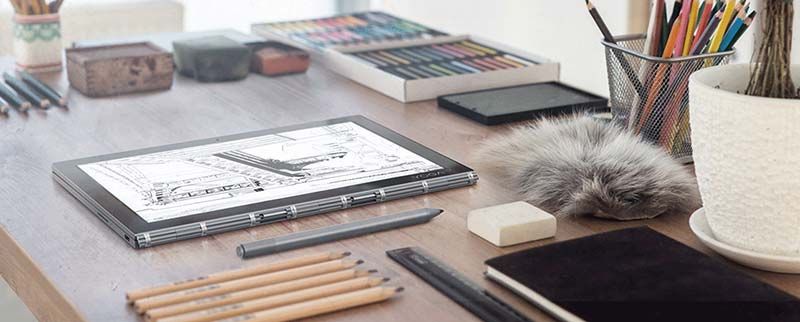 This all-new Lenovo Yoga Book C930 has the Intel 7th gen processor either of i5 or i7. With the memory capacity of 4GB RAM with a storage capacity of 256GB plus a MicroSD card slot. Since its a Notebook Laptop, Lenovo provides a slot for single Nano-SIM of LTE version. The sound card is of Dolby Atmos audio. It has a small display of 10.8-inch 2560×1600-pixel IPS LCD screen and a 1920×1080 pixel e-ink display. And a Pen designed by the Wacom company uses Bluetooth and can work up to a level of 4,096 pressure sensitivity on both the touchscreen displays.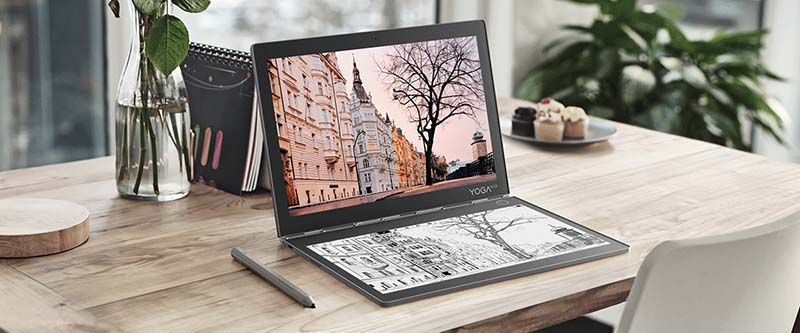 The price range varies from  €999 (Rs. 80,000) to €1,499 (Rs. 1,20,000) respectively. The device will be available in some parts of the world by mid-September or October as per the reports. Stay tuned for more updates.
Image courtesy : lenovo.com