The Chinese tech giant Xiaomi has comes with something cool. We all know Xiaomi for its value to money smartphones and some really exceptional smartphones. Now Xiaomi is developing solar-powered, self-charging smartphone. Recently it is found that Xiaomi has filed a patent in WIPO (World Intellectual Property Office) for a smartphone that has a solar panel on the rear side.
Xiaomi's developing solar-powered, self-charging smartphone
The Xiaomi is developing solar-powered, self-charging smartphone. And the patent was filed back on 2018 July 27 and as per the sketches mentioned in the report by LetsGoDigital.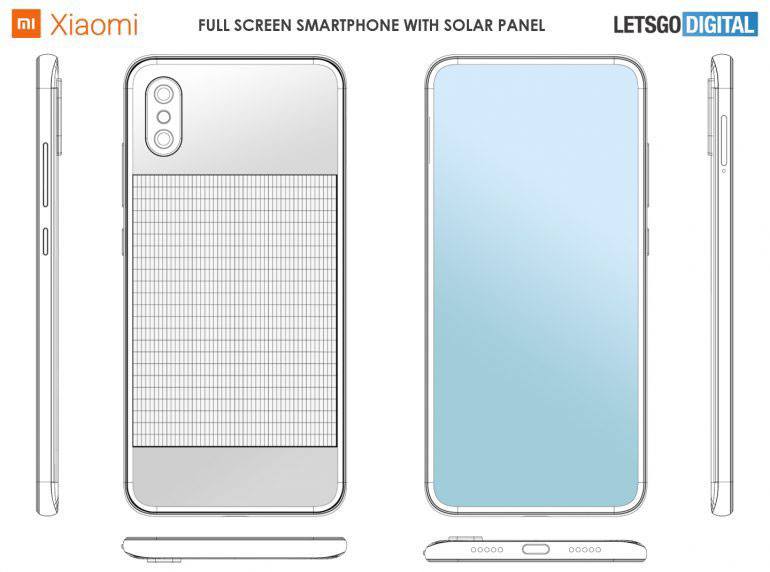 As from the sketches we have, we can clearly see the solar panel allocation on the rear side of the smartphone. The integrated solar panel covers most of the backside of the smartphone. And it seems this device features a full display screen, there is no noticeable notch appearing. So either it will have a popup selfie camera or maybe an in-display selfie camera. Whereas on the backside we can clearly see a Triple camera setup. And also since there is no allocation for the fingerprint sensor on the rear, it might come with the in-display fingerprint sensor. It also has a stereo set up along with a c-type USB on the bottom.
Even though Xiaomi is not the first who has a solar-powered self-charging phone. But we can expect a good breakthrough from Xiaomi. Companies like LG and Samsung have also released their smartphones with a solar panel. Samsung released two phones with solar panels which are E1107 and the Blue Earth S7550. It assumes to give the power for a 10 minutes call from an hour on sunshine. And the LG has a solar cell battery cover 9 years ago which was optional about for the super-compact LG Pop GD510 model. Which you could give the power for a 2 minutes phone call from a 10 minute on sunshine. And these smartphones were feature phones. Since smartphone manufacturers like Apple and Samsung are moving toward building more eco-friendly smartphones, we can expect this kind of innovations in upcoming days.