The New Era Of Smart Displays is here !
A few months back Lenovo has revealed their Smart display known as the Lenovo Smart Display. Unlike Amazon Echo or Google Home, The Google Home Hub Comes with A smart display. Just like the Lenovo Smart Display.  So with a better upgrade, Google brings up a smart display known as the Google Home Hub . Which performs the same function of The Google Home and Google Home Mini. With a crystal clear Display of 7 inches. The  Google Home Hub was launched today on the Google's " made by google 2018″ Live event along with Pixel 3, Pixel 3 XL and Pixel Slate.
You can ask anything about the all-new Google Home Hub Smart Speaker, like what's the weather, watch YouTube, play music etc. Instead of replying with a voice like the Amazon Echo, this Smart Display will reply you with a graphical content. That is almost the same as a tablet with Google Assistant but a huge speaker at the back. If you are familiar with the Google Assistant, then setting up the Google Home Hub Smart Speaker might be pretty easier. It took us just a few minutes to get up and start running because. It works with the Google Home app. Then use your voice, starting with "Hey Google" or "Ok Google" to ask for the weather or something else like a song or a small storytelling.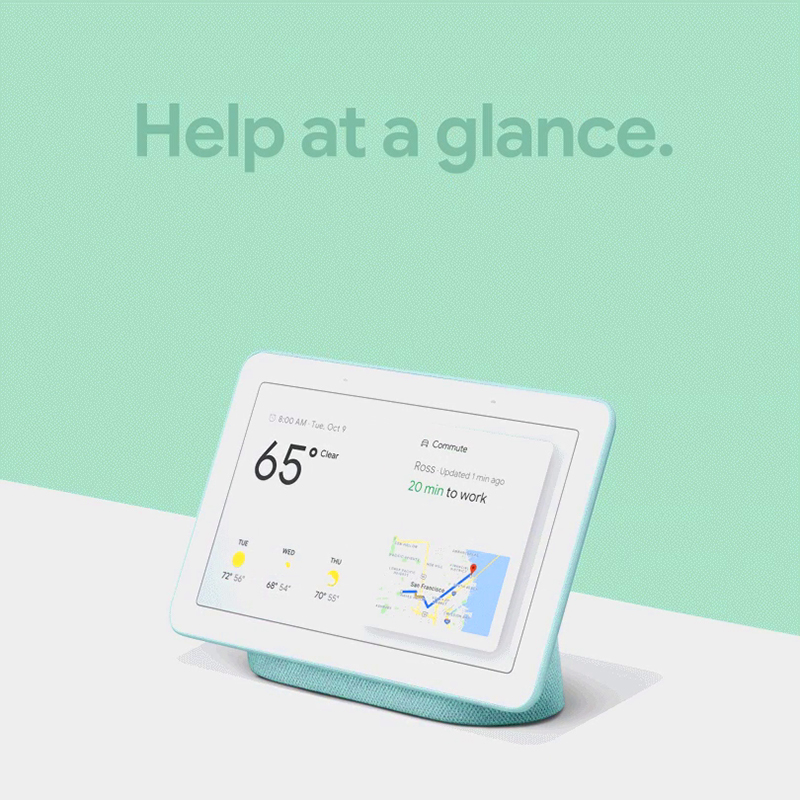 And More…
The Home screen includes all the kind of information like your city weather, how long it might take for you to commute to work. YouTube videos and other information on online orders, booking, and flights which may have recognized from your Gmail account. You can swipe across the large, bright touchscreen to see more information or speak more commands. Like for a random number, recipes, call Uber, translation, search, media and many more. Even you can customize your Home screen using Google photos which uses your backup photos and albums. You can connect all your smart devices and and control them by the feature called "Home View". Which has many cool features like dashboard etc. The Google Home hub is associated with nest, which unlocks many features for the smart home devices.
The Google purposefully didn't add any cameras to increase the privacy security. Which is understandable.
Can watch YouTube videos, shows and also to view Google photos. There are other features like Live Album and more. Finally, it can play music from other services like google play music, Spotify, and Pandora. Later on, the device can be connected with all the smart Home devices like the smart lamp, smart TV or anything which can work with the help of NFC and Google assistant. The price can be expected around 140$ and above for the 7-inch screen model.